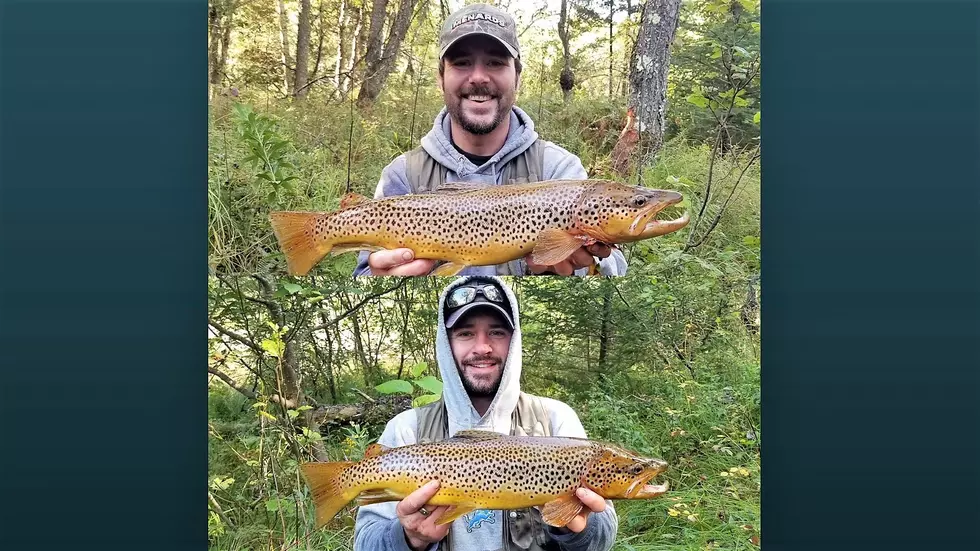 Kalamazoo Brothers Take 3rd In 'Michigan Trout Addicts' Tourney
Chris and Tim Bachman with their trout catches
An annual trout fishing tournament across Michigan was held over the weekend and two brothers from the Kalamazoo area came home as the 3rd place winners. Chris and Tim Bachman landed some big catches as their high ranking in the Michigan Trout Addicts tourney included their top three catches of 18.5", 21.5" and 22" for a total of 62", just 8" less than the 1st place winner 'River Reapers' who won the tournament at 70". Team 'M&M' finished in 2nd place at 68".
The Bachman brothers have been fishing together since their childhood days growing up in Kalamazoo County's Cooper Township. In recent years, they started competing in several trout fishing tournaments. Part of what makes their partnership unique is the production of their own fishing accessories under their business name 'Bachman Spinners' which are what they have used in competition, including this past weekend's tournament in the U.P.'s Schoolcraft County. All their fish were caught on a spinner they call the 'Gold Hoghunters'.
The brothers earned a trophy for their 3rd place finish and after a long upcoming winter of ice fishing in Southwest Michigan, plan to return to competition in the spring for the Michigan Trout Addicts Out To Trout 2019 opening tournament.
More From Kalamazoo's Country