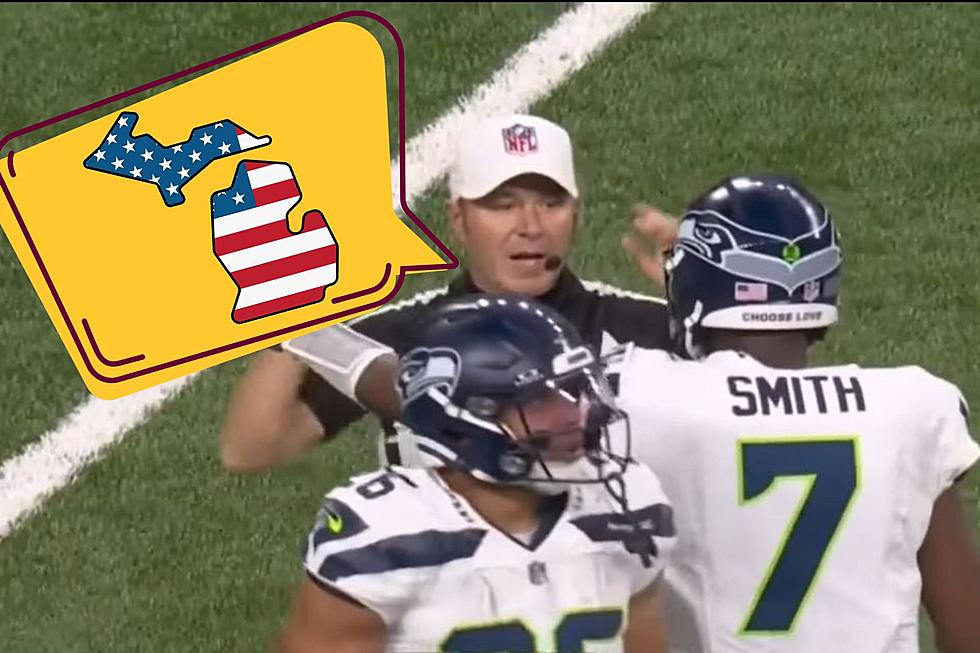 Viral Ref From Lions-Seahawks Game is a CMU Grad, Punter
Central Michigan University Alumni Association via Facebook | Canva
Sunday didn't go quite as Detroit Lions fans hoped. Two-straight years the Lions played the Seattle Seahawks in an offensive shootout and both times they came up short.
The referees left that game with some controversy as it appeared Aidan Hutchinson was held on the game-winning touchdown from Geno Smith to Tyler Lockett. A few ski-mask-wearing fans likely thought he was held for a lot of the contest.
The season is long though and the Detroit Lions do still look like a team that can win the division even if they can't win every game. That's life in the NFL.

But the Lions-Seahawks game did give football fans one of the most hilarious referee-player interactions we've seen in quite some time. As NFL head official Alex Kemp was announcing an intentional grounding call against Seattle, quarterback Geno Smith argued his case while Kemp's mic was hot. Kemp humbly and hilariously told Smith to move along while he did his job: "Talking to America."
What you may not have known is that Kemp is a Central Michigan Chippewa.
A Facebook post from Central Michigan University's alumni association reminded Michiganders that Kemp not only graduated from CMU but was also a punter for the football team.
Kemp punted the football 48 times in 11 games for the Chippewas in 1995 averaging 38 yards a boot. He even had a 20-yard rushing attempt.
Flash forward nearly 20 years and Kemp got his start as an NFL official in 2014 as a side judge. He was promoted to head referee in 2018 after famous names Ed Hochuli and Jeff Triplette retired from the league. Kemp's father, Stan, was also an NFL official.
While Detroit football fans would like a few calls back in a tight game, all of America appreciates the way Kemp handled this situation.
Every Michigan Player in the NFL in 2023
The University of Michigan had 38 players suit up for opening week of the 2023 NFL season, 5th most of any program in the country.
The Top 10 Sports Moments in Silverdome History
The notorious Pontiac Silverdome played host to some memorable moments in sports history.