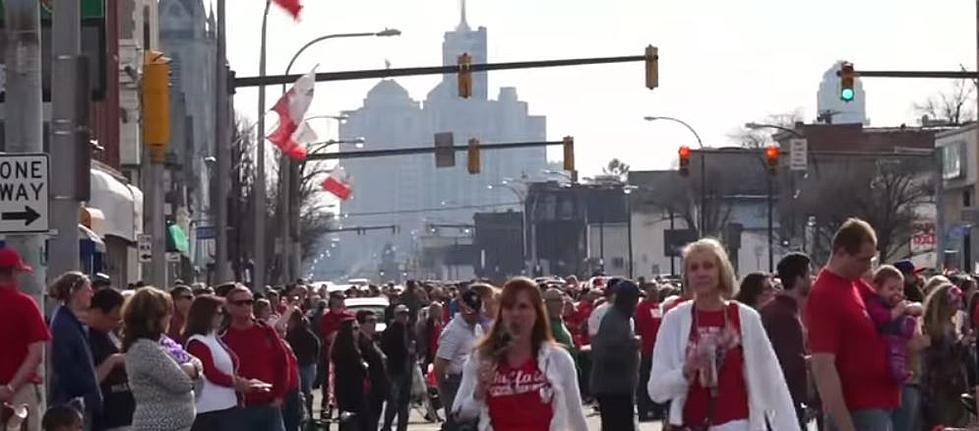 Why Doesn't Michigan Celebrate Dyngus Day?
Polish Villa 2/YouTube
On the heels of the traditionally Irish holiday of St. Patrick's Day, the Polish-heritage celebration of Dyngus Day is held the Monday after Easter. Surprisingly, there is no large scale Dyngus Day celebration anywhere in Michigan.
Surprising, particularly because of a strong Polish heritage in many parts of Michigan (looking right at you, Hamtramck) with more than 8 percent of the state's population claiming Polish ancestry, the 3rd largest number in the nation behind New York and Illinois.
Also surprising is that you'll find large scale Dyngus Day celebrations in the Great Lakes region around Michigan with the best known held in South Bend, Cleveland and Buffalo.
Buffalo has the nation's largest Dyngus Day celebration. Here's a glimpse into what it looks like:
Nowhere in Michigan is there anything like the large gathering you'll find in Buffalo, Cleveland or South Bend.
So What is Dyngus Day?
Similar to the Mardi Gras festivities of indulgence leading into the Lenten season, Dyngus Day is the one day of celebration that follows the end of Lent.
In Polish the holiday is Śmigus-dyngus or "Wet Monday" and the tradition boils down to soaking young people in water - a symbolic reference to the spring rains needed for a successful growing season.
In Buffalo, the Dyngus tradition has evolved to include Polish food and beer as well as a large parade. But the element of water is still part of the festivities. Expect plenty of squirt guns to be a part of a Dyngus Day celebration.
Why Dyngus Day Isn't For Everyone
Anderson Cooper famously lost is gourd one night while attempting to explain Dyngus Day festivities in Buffalo.
Cooper keeps his composure until the Dyngus Day tradition of boys shooting water guns at girls they like, and the girls responding in kind by hitting the boys with a pussy-willow branch. Don't know how any newsperson couldn't hold it together trying to read that.
Dyngus Day in Michigan
So that brings us to Michigan and the state's 8.6% Polish population. So what about the traditional enclaves like Hamtramck, Poletown, Troy and Wyandotte? This discussion thread from the DetroitYes! message board back in 2009 indicates there may be small celebrations focused around a family, neighborhood or church but nowhere is there anything like the large gathering you'll find in Buffalo, Cleveland or South Bend.
Looking up the websites for the American-Polish Cultural Center in Troy, the Detroit West Side Polish American Historical Society and the Polish Century Club of Detroit, they don't offer a single mention of anything Dyngus.
So how do we get this gross state-wide oversight corrected? There couldn't be a better place than Michigan for a large-scale Dyngus Day celebration. Buffalo has already stolen Detroit's Hockeytown moniker - we're going to let them have Dyngus Day, too?
Polish heritage or not, there are some odd town tames around Michigan, Hamtramck notwithstanding.
40 Michigan Towns With Names Even Life-Long Michiganders Can't Pronounce
More From Kalamazoo's Country