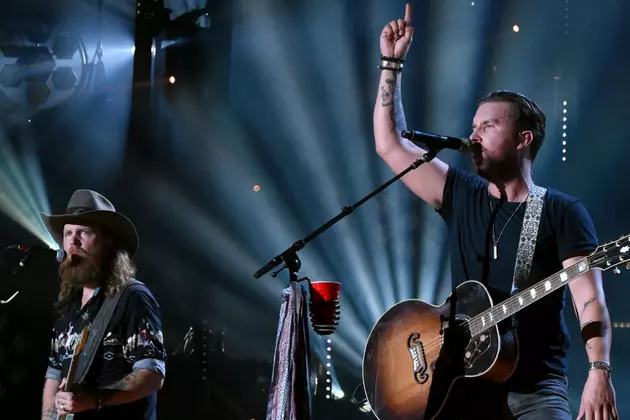 Brothers Osborne Call Route 91 Harvest Festival Shooter 'Deranged Coward'
Rick Diamond, Getty Images
The Brothers Osborne reached out on Facebook to send prayers and love to the victims of the mass shooting in Las Vegas, Nev., at the 2017 Route 91 Harvest Festival. Their words are measured, but pointed, and they urge fans to not let incidents like this one ruin their love of live music.
John and TJ Osborne performed at the 2017 Route 91 Harvest Festival on Friday (Sept. 29), on the same stage on which Jason Aldean was performing two days later when the shooting occurred. In their Facebook post, the Osbornes admit that they are "completely devastated" by the shooting and offer up love and prayers to their fans.
"We can only imagine the flood of emotions you all must be feeling," they say.
Country Stars Respond Following Route 91 Harvest Festival Shooting
At least 58 people are dead and hundreds more were injured when a lone gunman opened fire from the 32nd floor of the Mandalay Bay Resort and Casino, which overlooks the Route 91 Harvest Festival venue. The shooter has been identified by Las Vegas police as 64-year-old Stephen Paddock; he is dead.
"After our set on Friday, we talked about how you were one of the best groups of people we've ever played for. So much love. So much joy. So much pure happiness floating thru the air," the Brothers Osborne write. "I know it might be hard, but don't lose those feelings. Those emotions are sacred. Don't let a deranged coward take that from you."
The Osbornes' post, signed "John and TJ," voices the same outrage at the senseless act of violence that other artists, including Kacey Musgraves and Aldean himself, have shared on social media after the attack on innocent festivalgoers. Other artists who performed at the Route 91 Harvest Festival, which ran Sept. 29-Oct. 1, include Chris Young, Jake Owen, Sam Hunt, Eric Church, Maren Morris, Kane Brown and Luke Combs.
Remembering the Route 91 Harvest Festival Shooting Victims
More From Kalamazoo's Country