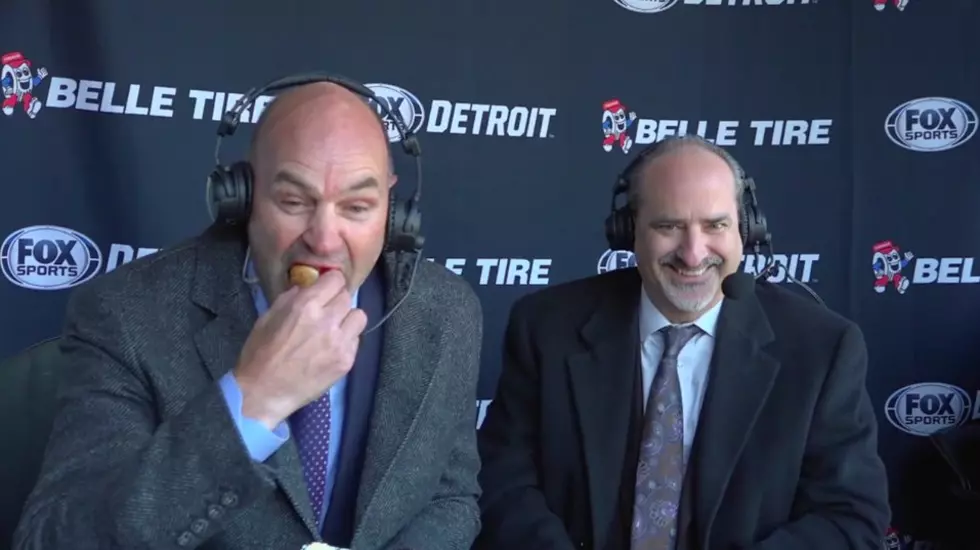 Blasphemy or Savage? Tigers announcer does a big no-no in Chicago
FOX Sports Detroit
If you have traveled to Chicago and decided to enjoy a hot dog, you probably are well aware that ketchup is NOT a welcome condiment on a weiner in the Windy City. But there is a rebel in all of us and over the weekend it was Detroit Tigers television announcer Kirk Gibson.
During the Tigers/White Sox game broadcast on FOX Sports Detroit in Chicago Saturday afternoon, they cut to the announcers booth and Gibson defiantly smothered a frank with only ketchup and ate it on air. Right before eating it, Gibson proudly proclaimed "We're from Detroit. This is Chicago." Perhaps this intentional faux pas gave the Tigers a boost as they went on to sweep the White Sox in the weekend series.
In Chicago, the rule is hot dogs get topped with yellow mustard, green relish, chopped onions, tomato wedges, a pickle, peppers and celery salt. Wait, tomato wedges? Don't they know what ketchup comes from? Anyways, despite sneaky tricks, Chicagoans don't let much get past them with this passionate issue. In 2015, Heinz rebranded its classic tomato ketchup in the Windy City as "Chicago Dog Sauce" for National Hot Dog day. It didn't work, with one person suggesting exactly where Heinz should pump their dog sauce.
But is Detroit just as defiant in favor of Ketchup? In 2013, a hot dog vendor at Comerica Park was fired for being rude to Tigers fans when they asked for ketchup. The Detroit News reported that the "singing hot dog man" Charlie Marcuse was a strong crusader for the anti-ketchup movement and even refused the condiment to fans.
In these polarizing times, a story like this makes me sit back and miss the carefree days of old when you could eat a hot dog any way you like without all the controversy, judgement and millions of opinions from the masses. I think I'll just sit back and eat a delicious high quality steak. Can someone please pass the A1?
More From Kalamazoo's Country